InterWest Moving & Storage has locations in Idaho Falls and Bozeman, MT. InterWest movers serve all surrounding areas in Idaho, Wyoming, Utah and Montana, moving families and delivering shipments locally and nationwide. Their moving services include local and long distance moves, as well as corporate relocation, commercial services and military moves.
Prominent Cities in Interwest Territory: Twin Falls, Pocatello, Idaho Falls (Main Office), Jackson, Billings, Bozeman (Billing Office), Helena, Butte, Missoula.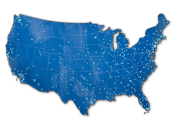 The Atlas Agency Network. No wonder you see so many Atlas moving trucks on the road. Although InterWest Moving & Storage is independently owned and operated, with locations in Idaho Falls, ID and Bozeman, MT it is also part of the Atlas nationwide network of professional home movers.