Dealing with Moving Stress
It's a common fact that moving is stressful. Depending on the reason of the move, it can outright give your anxiety and be a headache to even think of a move. While it is impossible to avoid any moving stress, we do have some ways of managing stress that can help decrease the amount of moving stress that you might have to endure. We have some advice to help deal and find ways of managing stress when it comes to your move.
Preparation is Crucial
We probably sound like a broken record, but one of the best ways to avoid the most amounts of stress and anxiety is through preparation. Although, we realize that is not always possible. Sometimes a move sneaks up on your, and it makes you move at the very last minute. If it is possible, and you are aware of your move weeks ahead, we suggest that you start planning for your move within 8- 6 weeks time. That is enough time to call movers such as InterWest Moving & Storage to help ease your move and to pack and prepare. While you prepare for your move, keep a focus on getting organizing. Start with the rooms that tend to clutter the most such as your garage, attic, or even your laundry room. If you go through these heavy rooms first and make them manageable. It will reduce your moving stress significantly. It is also a great idea for ways of managing stress. You can take on small projects over time than having to take on a large project on a deadline at once.
Go with the Flow is a Great way to Handle Moving Stress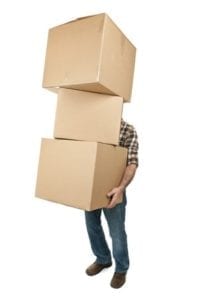 Sometimes even with the best preparation, things can go wrong. Take a deep breath, take a little second for yourself and be a little flexible. If you need some time to decompress before going back to your work, then take it but accepting that life doesn't want to go your way will reduce your stress. Make jokes about it and keep a support system around you. This will make dealing with moving stress all the easier and tolerable. Also, when you look back at it, you might have some hilarious stories to laugh about over the next few years.
Eat to Keep You Fueled and Get Enough Sleep.
When it comes to dealing with stress, it will be a whole lot harder when you haven't had a good night's rest and got a hungry belly. Running on coffee and not good meals and enough sleep may seem tempting, but it won't help in the long run. The more rest you have and maintaining balanced meals will have you feeling ready to take charge of your move.
InterWest Moving & Storage
With InterWest Moving & Storage, it is always the best time to move. Our experienced movers and our top-of-the-line trucks help provide a moving service that is unique and efficient no matter what the condition of the move is in. If you are ready to sit back and relax while we move your stuff for you, give us a call!