Trusted military movers since 1956.
For the government, DITY and military moves, look to InterWest Moving & Storage for a proven experience you can trust. We've provided efficient, timely domestic and international moving services to the U.S. government and armed forces for years. Our clients in the public sector know us for a unique service commitment: A successful move EVERY time.
InterWest's Idaho Falls, Bozeman and Salt Lake City movers connect you with the resources of a familiar, respected name for military moves. Among military moving companies, InterWest stands out for exceeding customer expectations. Uncle Sam has counted on us for DITY and military moves since 1956.
The Atlas Agency network for government and military moving
At InterWest Moving & Storage, we make it a priority to help government and military families relocate well. As an Agent of one of the largest moving companies in the U.S., InterWest brings the capacity and resources to ensure the best service for DITY and military moves. Our network boasts 3300 professional van operators and a modern, well-equipped fleet of more than 4300 trucks. Secure warehouses from coast to coast enable cost-effective storage solutions all across the country. Our van line handles over 13,000 military moves each year.
For government moves, you get the assurance of an approved participant in the GSA's Centralized Household Goods Traffic Management Program (CHAMP). Our van line provides over 1600 CHAMP moves each year, consistently earning high marks for performance.
Optional With InterWest Moving & Storage, you also have effective options for international military moves. Using the resources of Atlas International, our trusted international moving partners, we answer any DITY logistical challenge, anywhere in the world.
Adding value to DITY
Not all military moving companies are the same. With InterWest and Atlas, you automatically get these service enhancements:
Trailer Tracking. Satellite technology pinpoints the location of the trailer carrying your military move shipment.
Shipment Tracking. Atlas gives you secure, online access to the location of your shipment.
Labor Certification. We enhance the security of your move with background checks on all van operators and employees who handle your household goods.
Proactive Safety. We adhere strictly to DOT regulations and conduct random drug and alcohol screenings to verify compliance.
Right service, right pricing.
If you ever need any help please be sure to give us a call. We move to anywhere in the United States, and we are located in Idaho, Montana, Wyoming and Utah and have warehouses in Idaho Falls, Bozeman, and Salt Lake City. Contact us today. We're here to help.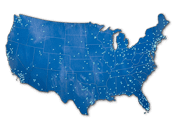 The Atlas Agency Network.
No wonder you see so many Atlas moving trucks on the road. InterWest Moving & Storage is independently owned and operated, with locations in Idaho, Montana, Wyoming, and Utah (with warehouses in Bozeman, Idaho Falls and Salt Lake City). We are part of the Atlas nationwide network of professional home movers.