Supported by the extensive Atlas network
Your warehousing and distribution project is in capable hands with InterWest Moving & Storage. With our network of approximately 500 Atlas agencies, we provide proven resources for transportation and storage across the U.S. and Canada, all from our locations in Idaho Falls, ID, and Bozeman, MT. Through our partnerships with respected providers overseas, you have access to Atlas-approved warehousing & distribution services virtually anywhere in the world.
Quality service meets deadlines.
With InterWest and Atlas, you get responsiveness backed by a network of approximately 500Atlas agent warehouse locations throughout the U.S. and Canada. For every warehousing-and-distribution challenge, we answer your expectations for service, timeliness, and value. When it comes to your satisfaction, we add our own guarantee: A successful move EVERY time.
Third-party added capacity.
For larger warehousing and distribution challenges, InterWest Moving & Storage may answer with the added capacity of Atlas subsidiary Titan Global Distribution Services. Known for "timely solutions – all the time," Titan maintains a rigorously qualified force of third-party providers. Titan supplies project-management expertise that spans transportation, warehousing & distribution, and installation. The company is well known for strengths in hospitality, food service equipment, store fixtures, and healthcare.
Advanced information systems keep you informed.
With InterWest, your Idaho-based mover, you get timely and accurate information on the status of your project. You'll know where shipments and inventory are at all times. When you have a question, your dedicated service coordinator has the answer or gets it for you quickly. We do what we say, and we communicate without fail.
Get a free quote today.
If you ever need any help please be sure to give us a call. We move to anywhere in the United States, and we are located in Idaho, Montana, and Wyoming and have warehouses in Idaho Falls, and Bozeman. Contact us today. We're here to help.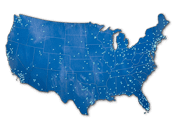 The Atlas Agency Network.
No wonder you see so many Atlas moving trucks on the road. InterWest Moving & Storage is independently owned and operated, with locations in Idaho, Montana, and Wyoming (with warehouses in Idaho Falls and Bozeman). We are part of the Atlas nationwide network of professional home movers.