Machine Movers you can count on.
When you need dependable services for shipping electronics, InterWest Moving & Storage answers with swift, efficient electronic-shipping solutions.
As an Agent of Atlas, we bring the extensive resources of Atlas' moving-and-storage network. Through the expertise of Atlas Logistics, we connect with quality machine movers. Atlas professionals understand the fine points of healthcare logistics and computer relocation, including server shipping.
Your assigned operator is an equipment-relocation professional.
When you enlist InterWest Idaho Falls, Bozeman, or Salt Lake City movers you get an assurance of experience. On average, our professional van operators for equipment relocation have worked in the industry for 60 years. Shippers are confident in our responsible handling of computers, clean rooms, medical equipment, precision machine tools, robotics, and high-tech instruments for aeronautics and aerospace.
You get the right equipment.
With InterWest Moving & Storage in charge, your electronics shipment travels in tractor-trailer units on full air-ride suspension (in both tractor and trailer). This ensures the smoothest ride for sensitive electronics with shipping conditions that minimize g-force, shock, and vibration. Using hydraulic lift gates and specialized handling equipment, our machine movers place your goods carefully and safely at the destination.
When time is critical for smaller shipments.
Thanks to dedicated Atlas Specialized Transportation Express Centers (ASTEC™), you get swift electronic-shipping solutions for more minor, time-sensitive moves. Within 24 hours of your call, the ASTEC™ agent will pick up your shipment of 3,000 pounds or less. What's more, a "Tech Rep" delivery option lets you specify a delivery time to avoid downtime for technicians or other on-site service providers.
Let's get started.
If you ever need any help please be sure to give us a call for logistics quotes. We move to anywhere in the United States, and we are located in Idaho, Montana, Wyoming and Utah and have warehouses in Idaho Falls, Bozeman, and Salt Lake City. Contact us today. We're here to help.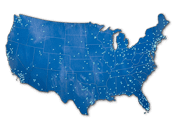 The Atlas Agency Network.
No wonder you see so many Atlas moving trucks on the road. InterWest Moving & Storage is independently owned and operated, with locations in Idaho, Montana, Wyoming, and Utah (with warehouses in Bozeman, Idaho Falls and Salt Lake City). We are part of the Atlas nationwide network of professional home movers.