Time For Something New
There comes a time when we must accept change and allow ourselves to evolve and grow on a personal level. This is evident when it comes to one of the first significant representations of change, the first time we move out. Now, though this may be somewhat intimidating, there is no reason to be scared of this, you should embrace it and make it your defining moment of growth. That being said, there is quite a lot of work that goes into making sure your move goes off without a hitch, so let us at Interwest Moving help you with some advice so you can have an easier move.
First Time Moving Tips
To-Do List
Having your moving plan physically drawn out for your reference is an excellent way at keeping to a game plan. A checklist can do wonders when it comes to making sure everything you need to complete is being done.
Have a Moving Budget
It is crucial that you have a budget set up so you can cover all of the necessary expenses that may arise. These costs will include:
Moving costs- the hiring of a professional moving company.
Housing expenses- the payments necessary for you to move to your new location, this usually include first and last month's rent and a security deposit.
Additional housing costs- things that you need for your new home, i.e., furniture, paint, dishes, etc.
Make Sure you can Afford It
This goes beyond affording the overall move and everything that comes with it, but instead, make sure you can afford the location you are moving to. This means that you are not moving into a place that will lead to you scraping to get by financially. This means looking around and making sure you are getting the best price possible on your new home.
Ask for Help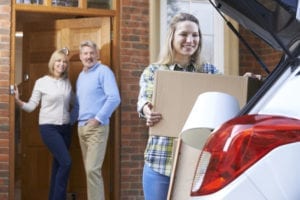 Do not be afraid to reach out to your friends and family for help. This may be helping you get everything ready for the move, or in the case of particular family members, aiding in paying for the move itself.
Find a Good Moving Company
Having a moving company assist in your move will be the best money you ever spent. They are in the business of making your move all the more comfortable. Make sure your moving company offers it all of the things that show a reliable company – good reviews, insured, packing and unpacking services, etc.