Real Estate Relocation
When you are a realtor showcasing houses, you are primarily going to be acting in your clients best interests. Making sure they purchase the best house and having the best decisions in mind. You are essentially their guide through the process. While the attorneys and lawyers and banks are all hurtling paperwork, you are there to help them through the process. That's why when they are ready to move in; you need a moving company who can provide that same comforting touch that you did throughout the entire process.
Having a moving company that works for you is great for establishing a realtor as a person to trust. By having a moving company work with the realty company, you are increasing your authority, establishing your connection to the local community, and building trust that you are in their best interests.
Why Movers are good for a Realtor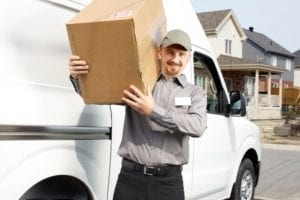 Increase Trust – Having a Moving company shows the client that you're looking after their best interests. They're not just some number and house to you; they're real people with needs. Studies show that most people who use a realtor are likely to desire a moving company too. This is because they want to be taken care of. Having a moving company that you can vouch for will only increase the trust that you care.
Increase Authority – Knowing a moving company and working closely with them is a fantastic way to show that you know your stuff. Someone once said that being an expert means knowing 10% of a subject and having a strong point of view. When you know what a good moving company looks like, and you stick to your guns, people will trust you and the moving company more. That is why InterWest Moving & Storage promises high-quality service to every customer because we work to be the best.
Increase Local Community – When you know the local spots, people trust your opinion on houses more. A person who knows the local moving companies will probably know the best place for pizza and so on. When people humanize a realtor, they are connecting with them stronger which makes it much easier for them to want to purchase a home from you.
Why Movers are good for the new Residents
Increase Easiness – When people are ready to drop a large sum of money on a new home, they don't want to be stuck moving everything too. They need a break. They've been fighting for that home for so long they want someone to help them out again. InterWest Moving & Storage provides comprehensive moving services which completely remove the owner from the process so they can just relax.
Decrease Strain – Why put physical strain on yourself after you invested into a home? The risk of medical injuries such as broken bones, strains, fractures and so on, skyrockets in the process of moving. Often, moving companies aren't about the service but the insurance of not damaging your body.
Increase Personalization – When they have a moving company bringing everything in, they have a chance to play with ideas. We are responsible for moving and setting up countless objects from the previous home. The new homeowner will be able to sit back and visualize where they want all of their belongings.