Movers in Rexburg
Rexburg is one of the most tucked away locations in the United States. Some people look at it as a cozy bungalow to settle down with their family, while others would rather move on to bigger and brighter things. Whether you're trying to move to Rexburg or from there, we will always help you. InterWest Moving has some of the most experienced Rexburg, with our years of experience comes proven and guaranteed excellence in service.
Our Moving Services
Home Moving – Rexburg is a great place to raise your family. It is a perfect blend of high industry and environmental responsibility. Our moving services would settle you into more than just your home; we would settle you into our home. We will show you all the ins and outs of this beautiful town so that you will feel like you have been here your whole life.
Business Moving – This town is always expanding, always looking for new ideas. Relocating your business to Rexburg would yield high profits and satisfaction for both you and the customer, after all, we are home to some of the nicest people in America.
Corporate Relocation – Most corporations that have stations in Rexburg rank having higher customer satisfaction and lower turnover rates in the businesses. We are located near the airport, so business flights are never out of reach, and we are always able to provide the best moving services. We will help you move in and show your workers what it is like to live in Rexburg.
Interwest Movers in Rexburg
We cannot begin to express how much we owe to Rexburg. We started out here as a small moving company and expanded into a tri-state moving service all because of the vast support of this amazing city. If you are ever looking for the best Movers in Idaho Falls, look no further than Interwest.
Contact us Today
1765 N. Yellowstone Hwy.
Idaho Falls, ID 83401
Mailing Address:
P.O. Box 50397
Idaho Falls, ID 83405
Phone: (208) 523-8989
Fax: (208) 523-9726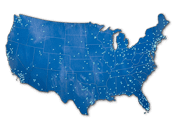 The Atlas Agency Network.
No wonder you see so many Atlas moving trucks on the road. InterWest Moving & Storage is independently owned and operated, with locations in Idaho, Montana, Wyoming, and Utah (with warehouses in Bozeman, Idaho Falls and Salt Lake City). We are part of the Atlas nationwide network of professional home movers.