There always precautions to take before a massive adjustment in life. I cannot think of a more substantial accommodation than moving. Deciding which company is going to satisfy you the most is the most critical step in the entire process. Whatever the reasoning for the move, there are things to consider when you're choosing the right company for you.
Key Points
• Check the website in full!
Do not leave a single tab or section left unread. Overlooking small details for this type of job is not a mistake you want to make. Most companies provide a page with testimonials, and this is one of the most important pages to read through. You want to know that other people can relate to you in this same situation.
• Minimal upfront costs may be required.
Of course, a deposit is a fair request to make but if the company requests that you pay everything in full before the process begins, run! It cannot be stressed enough that, unfortunately, there are companies out there that pull this scam all the time. Don't allow yourself to become the next victim plagued by irresponsible movers. With InterWest Moving and Storage, we offer a quick form to fill out online for a free moving quote before any commitments are made.
• Inquire about references.
If a moving company has nothing to hide, then asking them about past clients that have hired them shouldn't be a sketchy situation. Certain confidentialities will arise during this interaction, however, if they cannot provide you with even a name, then how can you trust them with all of your valuables?
• You run the risk of a catch 22.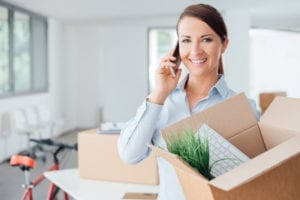 If you would like to have a moving business explore the depths of your house and pack up all of your belongings then, by all means, go ahead. If they pack it and something breaks during the transition, then the fault will ultimately be on them. However, if you would rather pack up your things, you may not be able to pin a broken item on the movers. If the box was packaged correctly and they decide to play hot potato with the box, and it falls on the floor, that's a different story. But in most cases, if the general handling occurs when they're dealing with every box and something breaks. The movers are not responsible.
Do your research before you make any commitments to a moving company. Your valuable possessions and years of accumulating memories should be handled with care every step of the way. With InterWest Moving and Storage, we consider our customers family, and that's why we always give the treatment that we would expect in return.