What You Need when You Move out on Your Own
Moving out can be quite intimidating, be it for college, or maybe even after college when you finally enter into the world of adulthood, and with this being a new experience, you may be unsure of what to do next. Well, first things first, is your new place ready to be moved into? Chances are, it is not, and therefore, you need to get it ready for you to move into. Well, here is a little list of things that may come in handy when it comes to starting your life in a new home.
What You Need
You will need somewhere to sleep, and therefore you will need to invest in a proper bed, that includes:

Mattress
Bedframe
Sheets, blanket, comforter, and pillows
First Aid – You never know when something could happen to you, and therefore should be prepared for the chance of injury striking. A first aid kit is a great idea to get ahold of as it will have anything you would need to treat injuries not severe enough for a hospital trip.
Cleaning Supplies – You have to keep your place clean, so you had better get yourself some cleaning supplies to help you out. In this same realm, you will need a trash can as to not accumulate to much trash.
Kitchen Supplies – You should get your hands on some kitchen supplies such as:

Water glasses and mugs
Plates, cereal bowl, and utensils
Frying pan, pots, and cookie sheet
Toaster, microwave, blender, or toaster oven
Sandwich bags and one or two food storage containers
Spatula and any other cooking utensil you think you'll need
Toolkit and Supplies – You never know when something may need a slight repair, or at the very least you want to hang a couple of pictures. In that case, invest in a toolbox and supplies so you will not be without.
Bathroom Supplies – Goes without saying, but make sure you get some bathroom supplies. Things like toilet paper, soap, lotion, towels, tissues, potpourri, etc.
Linens – Towels and blankets.
Furniture – You may need some furniture if you plan on entertaining guests, or at the very least want to be comfortable in different parts of your house.
Other Things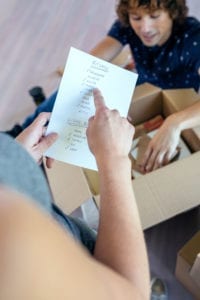 Now that being said, there are many other things that you could think about incorporating into your new place, but this is just a list of things you should consider investing in before moving into your new home. Consider this as a jumping off point for your new life, and now it is time to embrace it.