Movers in Bozeman
Bozeman is one of the biggest cities in Montana and holds a bid for the 2026 Olympics currently. While some people are clamoring to get to one of the hottest spots in Montana, other are moving away for a quieter life under the big sky. Whether you're moving to Bozeman or away from their always remember that the best Bozeman Montana storage & moving service is here for you. InterWest provides the best Bozeman Montana movers and has warehouses in the area for expedited Bozeman MT storage services!
Our Moving Services
Home Movers – Whether you are sending the kids to college or settling yourself down, you want to start off on the right foot. We provide quick and efficient Bozeman MT storage and moving services. If you ever want some insider tips, the only way to get them is on the car ride to your new home.
Corporate Relocation – Corporations are always looking at the next big thing, and they want to be there when it happens. If you want to move your offices from Billings down to Bozeman, it is a great time to do so because all of the businesses are moving there.
Business Relocation – Sometimes it is good to be the big fish in a small pond, but at the end of the day you are going to need a new lake to stretch out your fins. Moving to Bozeman is an excellent way to establish yourself as a local business before the town truly booms in population. Between college kids and possible future Olympians staying in the area, you want to have that local business feel even when the town is swelling all around you.
Interwest Movers in Bozeman
Interwest has had movers in Bozeman for several years. If you are planning on moving to do it in style and let us help you out. There's no reason to stress yourself out when moving to a new home, business, or relocation when you can just let Interwest and our Bozeman movers do all the work for you!
Contact us Today For Bozeman MT Storage & Moving Services
523 Business Hub Drive
Belgrade, MT 59714
Phone: (406) 587-5153.
Email: mail@iwest.com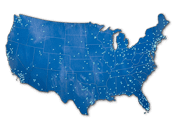 The Atlas Agency Network.
No wonder you see so many Atlas moving trucks on the road. InterWest Moving & Storage is independently owned and operated, with locations in Idaho, Montana, Wyoming, and Utah (with warehouses in Bozeman, Idaho Falls and Salt Lake City). We are part of the Atlas nationwide network of professional home movers.