About InterWest Moving & Storage
InterWest Moving & Storage, Inc. is the relocation arm of a group of fully integrated companies providing logistics, relocation, transportation and warehousing services. InterWest, a family-owned company delivering Atlas services in Eastern Idaho, Western Wyoming, Southern Montana, and Utah serving shippers needs across the globe.
We believe quality, service, and value begin and end with the people who deliver them. From the move manager who's with you every step of the process to the driver and crew responsible for your move. You can count on the InterWest Moving & Storage team of experienced relocation professionals to care about you, your priorities and a job well-done.
We focus on quality, service, and value in every area of our expertise. You can rely on us.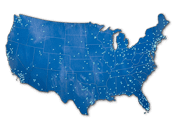 The Atlas Agency Network. No wonder you see so many Atlas moving trucks on the road. Although InterWest Moving & Storage is independently owned and operated (with locations in Bozeman, MT, Idaho Falls, ID, and Salt Lake City, UT), it is also part of the Atlas nationwide network of professional home movers.